Stories From Our Families
Building all Children came into my life a little more than a year ago. I was feeling overwhelmed with the heaviness of having 2 kids at home and 2 kids in public school. I saw the beginnings of how the world can slowly have a bigger impact on my children than all the teaching that I could do at home. My big kids were bringing habits, ideas and behaviors home from school and the impact was filtering down to my little kids like never before. I feared that I was losing control over these fragile beings whose hearts I desired to be turned toward something greater than themselves. This is where Kendra came in. Through assessing and empowering, Kendra opened my eyes to how I could let go of the fear and anxiety and turn my eyes upward. I still remember the day she gave me the example that my job was similar to that of a fireman- it was simple. There is a battle that we are forced to engage in. We are fighting for souls and most importantly, the souls of our children. So that is exactly what we do-we fight! We engage, but we engage in the battle with the only weapon that will allow us to win. Just like a fireman floods a burning house with water, we are to flood our homes and the lives of our children with the word of God. Since that day, my perspective has changed. It isn't about raising my kids in a bubble, but about allowing them to go into the world ready to fight- the sword of the spirit in hand. By allowing God's word to flood their little hearts, they will have HIM to cling to always. Pray hard, pray often and pray specifically. God will answer.
Thankful for Building All Children. It has changed the way I do life as a mother, wife and follower of Christ.
Elizabeth
After praying for a school for the kids, the Lord led us to Fellowship Bible Church's program.  My daughter had struggled with poor hearing and speaking and, in time, got tubes in her ears.  She has a loving, energetic spirit but we noticed she would often isolate herself from noises and had trouble with gross motor skills in general.  About a year after getting the tubes in her ears, FBC recommended we meet with Kendra at Building All Children, and she found that my daughter had some sensory and vestibular issues.  Kendra described her as a full puzzle that was just missing a piece.  It finally clicked with me.  We were referred to O.T. and learned that our daughter is actually gifted in fine motor skills but her gross motor skills were a struggle.  With a few new tricks like "monster hugs" and headphones, we were able to embrace who she is and how to encourage her energetic spirit, all because Building All Children helped us find the missing piece.
-Grateful Mom of Cambrie
I was teaching at Asbury Preschool when Kendra came to give us a presentation about Building All Children.  Several months later, my son's Pre-K teachers shared with me some concerns they had about his inability to cope with transition and change.  Aside from school, I had taken him to a ball class set to music and found that, even in a familiar environment with familiar faces, he struggled to re-grip emotionally.  With any change or disappointment he would meltdown and couldn't stop when other kids did.  I knew the red flags of sensitivity but he didn't fit the stereotypical mold that I was familiar with.  I remembered Kendra's presentation and just knew that Building All Children could help me not only as a teacher, but as a mother.  My son was assessed and Kendra confirmed that appropriate socialization and sensitivities to sound were indeed concerns.  She referred us to O.T. where my son has gained helpful skills through an Integration Listening System and Emotional ABC's.  Before Building All Children and O.T., I didn't have the tools my son needed, and my own set of tools didn't work for him.  I just needed guidance and direction and once I received it, my son gained the tools he needs to cope well and be successful.
Sincerely, "Parenting Compass Needed"
Does Your Child Need Help?
Kendra spoke to a "Moms of Multiples" group I'm involved with, and several friends recommended Building All Children.  My son has sensory processing disorder so he has trouble focusing and is easily frustrated by, and sometimes even incapable of, following tasks.  He was having trouble in school and I didn't know exactly how to help him learn while dealing with intense anxiety.  Building All Children helped him learn coping mechanisms and tools to cope with stress.  He soon learned how to decompress and accomplish classwork.  Kendra was able to direct us into the medical world where we received helpful resources like Occupational Therapy.  My son is super bright and is learning to cope positively now that Building All Children provided him with the needed tools and skills.
– Caleb's Mom
Kendra spoke to our Sunday school class about the resources Building All Children provides and my husband and I left class that day, both knowing we had to learn more about how she could help our son.  James struggled with fine motor skills and is very tall for his age, appearing older than his actual age.  He's often expected to act older than his age because of his tall stature, but he didn't have the confidence to deal with social cues and struggled with certain social triggers.  We met with Kendra and she walked me through our son's triggers and recognized James's gifts and abilities as well.  She equipped us with tools that helped better his fine motor skills to the point that the problems were eliminated.  We were so relieved by the positive transition that happened once his gifts were fine tuned.  There was an instant switch in his behavior and confidence, and his teachers noticed an immediate difference in James's confidence and success in school.   Building All Children made me feel encouraged as a mother, and like I had an army of help behind us.  It made a huge difference not only in James's life, but in my life and marriage, and we're excited to see how James will use his gentle, kind, sweet spirit to change the world.
–James Henry's family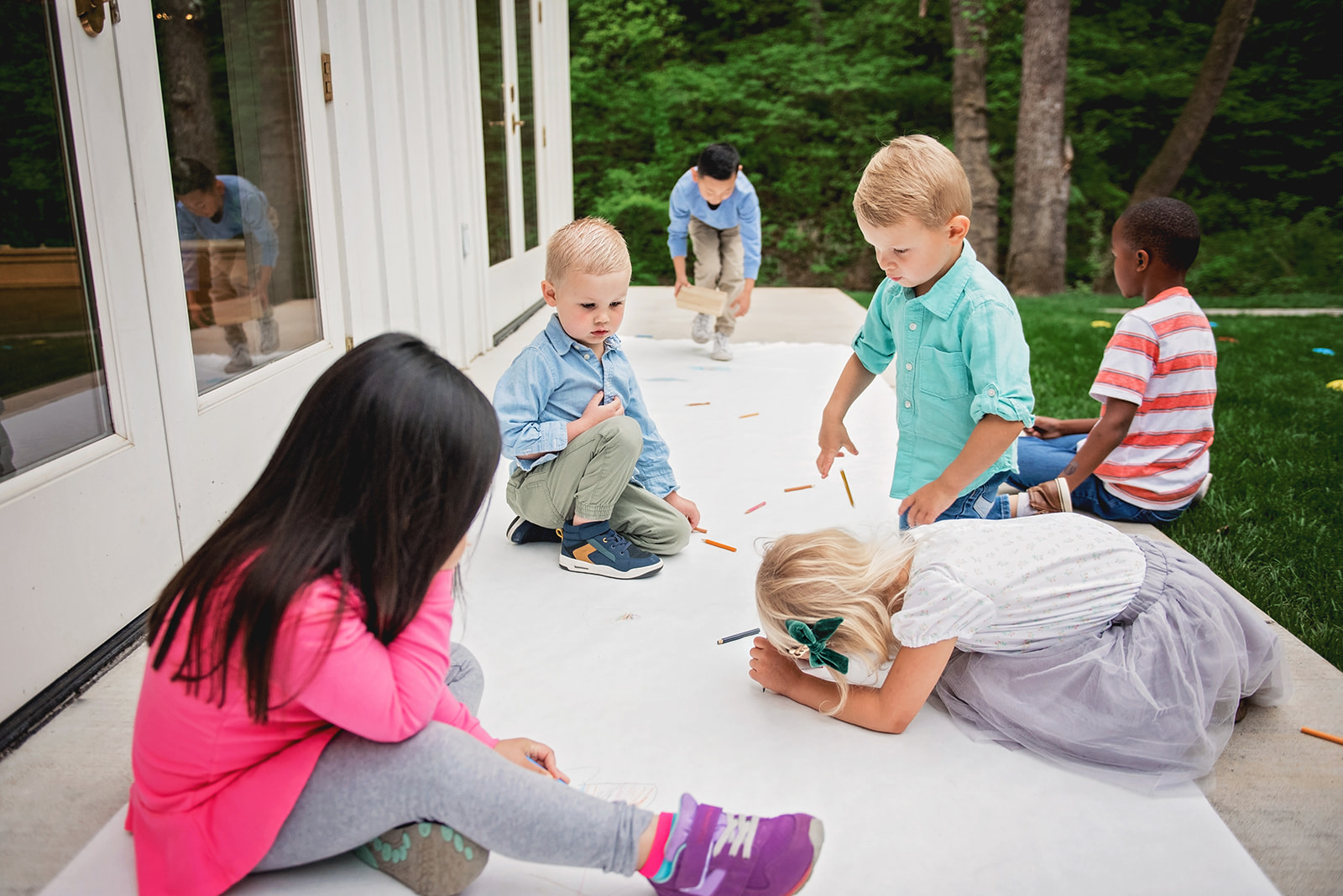 Our meeting with Building All Children was an answer to a prayer we didn't realize we'd been praying for months. A dear friend of ours helped us connect when I told her about something that had been plaguing one of our 10-year-old twin girls, Cadie. Cadie has been smothered with anxiety for months, and the reason just recently came to light. Once we understood what we were facing, everything — in a way that only God can do — fell in to place. In one quick motion, I was in touch with Kendra and found myself sitting in the Building All Children office being reassured that this particular worry was more common than I realized and that we could fight it with scripture and prayer, just like had been done with other kiddos. I left that meeting with a confidence that everything would be just fine. And my sweet tender-hearted Cadie has blossomed in just a matter of a couple of weeks. She's smiling and laughing and back to her sweet self, no longer crippled by worry and fear, but instead fortified by the armor of God.
-One Relieved Mama
A friend suggested I call Building All Children when we began struggling with our daughter's developmental and speech delays in school.  She experiences outbursts and meltdowns, often in public, and as parents of an older son with Autism, we sensed something wasn't right.  Building All Children set the course for finding the resources that we needed.  We were recommended to a therapist who evaluated and diagnosed our daughter with Sensory Processing Disorder.  In time, our wonderful therapist suggested we have our daughter evaluated again with another specialist who diagnosed her with high-functioning Autism.  We finally had that missing puzzle piece in place and could seek the appropriate treatments and medications needed.  Although our daughter still struggles with meltdowns, we've seen great improvement in school and our ultimate hope is that she can learn how to adapt throughout her life.  If it weren't for Building All Children, we'd have never found the wonderful therapists and resources we needed to answer our questions and set us on the path to success.
-Busy Mom of 5
We have a smart, sweet, kind young boy who we thought was just acting like a normal 3-year-old at the time. He would run around the house and anywhere we went he was tough to keep up with. He couldn't play sports even though he wanted to because he couldn't sit there and take directions. We wanted to give him a head start with school so we enrolled him into a preschool at the age of 3. It didn't take long for them to call us because the teacher couldn't handle him. He would run out of class, up and down the halls, and out onto the playground. The school suggested Building All Children. At the time we were reluctant to do this because nobody wants to think there might be something wrong with their child. The school set up a time for Kendra to come there and evaluate him which I'm so glad we did. The things/tests she did with him started creating more questions for us than answers but she was able to help us get to those answers! It led us to a psychologist who ended up diagnosing our boy with ADHD. She suggested to us to try and get him into a doctor for ADHD medication. We did not like that idea because at the time he was 3 and what 3-year-old is on medication for ADHD?! We met with a doctor and discussed our options and tried various things including medication. Finally, we found a medication that worked wonders on him and did not make him a zombie-like most people think about them. He no longer ran off and could actually stay in class! He's now a thriving 5-year-old in kindergarten and is doing more things that he wants to/can do because of the medication. Of course, we never would be where we are now if we never had the initial meeting/evaluation with Building All Children!
– One Blessed Family
Does Your Child Need Help?
I attended the Building All Children benefit dinner several years ago with a friend and was moved by Kendra's testimony and the mission of Building All Children.  I realized I could find help for my son Carter so I set up an assessment.  Early on in his life, we heard Carter described as a "late bloomer" and were told that he was "just fine".  As time passed, school became so challenging that his standardized writing tests were hardly passable.  His school wasn't offering the option for independent testing but I wasn't even aware he needed it.  I just didn't know what questions to ask to get Carter the help he needed most.  Building All Children gave us the right avenue to find appropriate testing for him and our son was diagnosed with Dyslexia and Dysgraphia.  We were relieved to have a diagnosis and could then move forward with a plan.  Building All Children was able to assist the school in setting up an IEP specific to Carter and it was then that I finally learned, and now know, what questions to ask teachers and specialists so that our son thrives.  Simply knowing who and what to ask has led to so many resources that have, in time, helped Connor to raise his standardized writing test scores to a near perfect level.  We're so grateful to Building All Children for setting us on the path to success!
– Carter's Mom
We were referred to Building All Children by friends at First Baptist Church in Jenks.  Our son had shown major behavioral issues at school.  He seemed to be in trouble all the time and was acting out to the point that I would just sit and wait each day for that phone call from the school.  I felt helpless and challenged, and was without resources to help him.  Building All Children referred us to a group that had a variety of tools that could help us, and we were able to get our son counseling, therapy, and even medical services.  We weren't even aware that he had a diagnosis but once an underlying medical issue was found and treated with the required medications, we felt relieved.  The medications are helping our son greatly and, although we still have lots of work left to do with him at home, school is better and we're finally seeing improvement and hope.  We've had such challenging emotions but they've been well balanced with the help of resources like Building All Children.
-Mom of "M"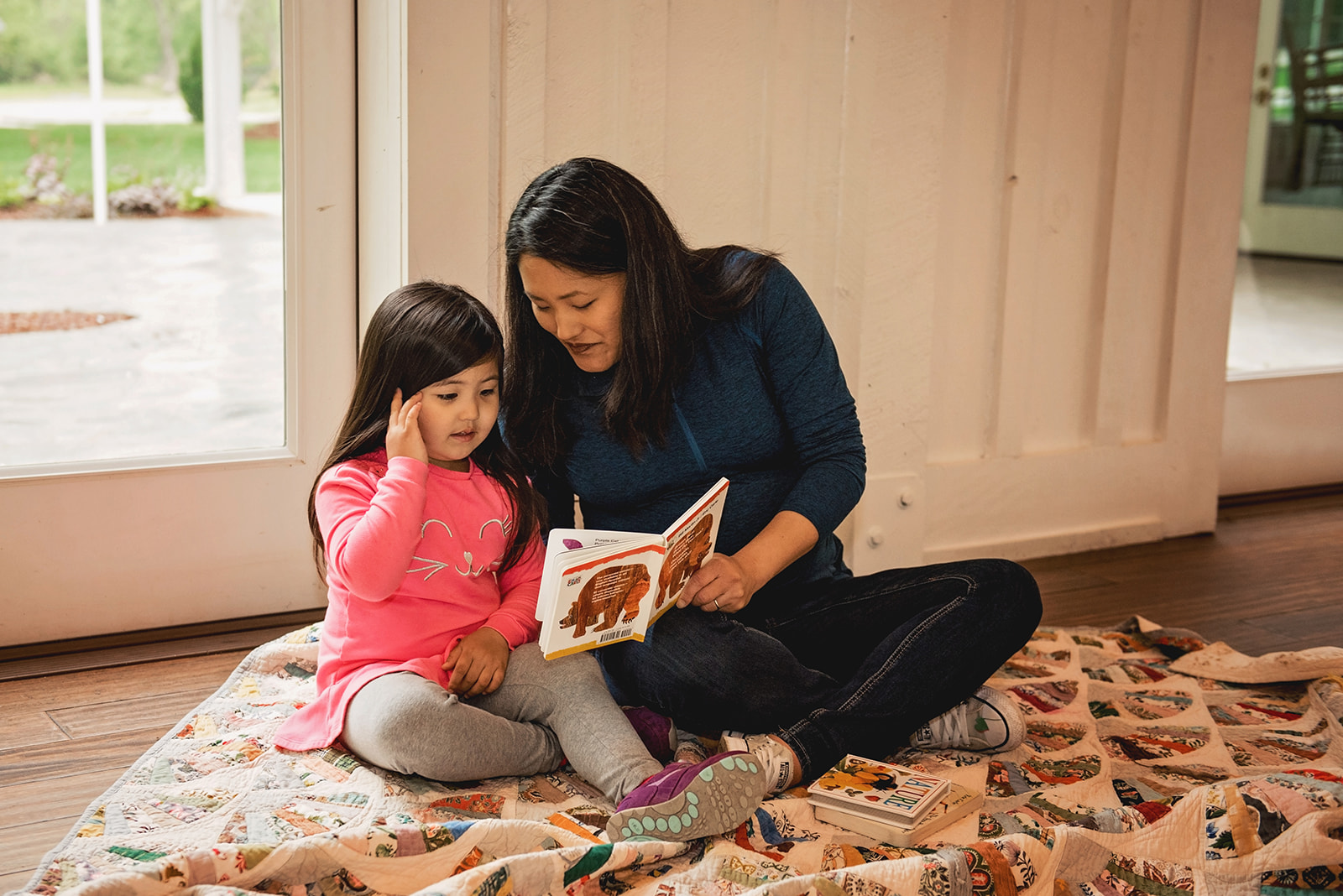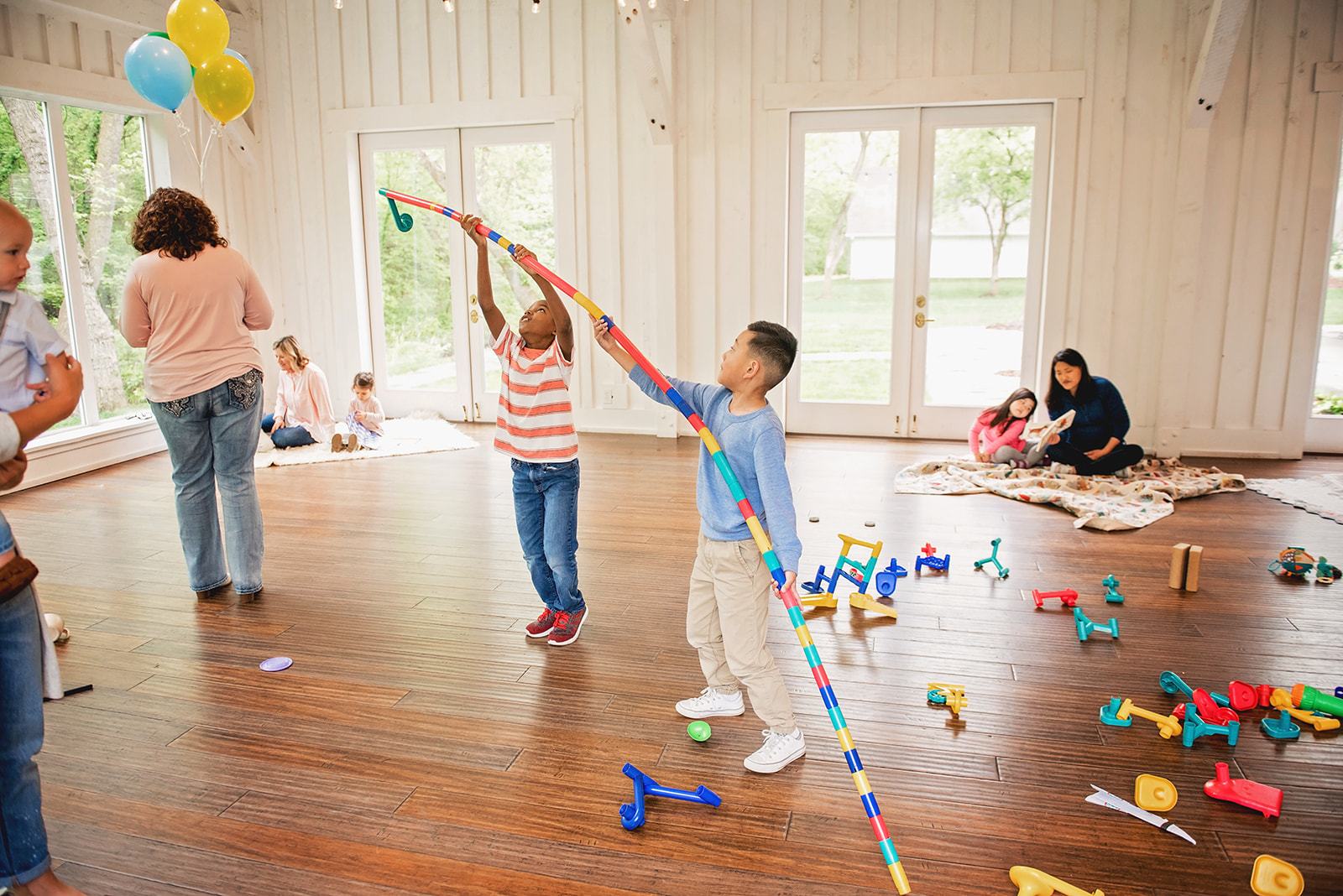 We met Kendra when she led Storytime at The Church at Midtown.  We knew something was off with our son and found ourselves walking on eggshells around him when he experienced anger.  We studied up on the possibilities and knew what he didn't have, but couldn't pinpoint what he did have.  He felt socially disconnected and struggled with coping and calming himself when angry.  Building All Children referred us to a wonderful therapist in OKC who was able to put words to the issue and taught us how our son feels and processes.  It was confirmed that he didn't have a spectrum disorder and we began treatment for him using a Bone Conducting Headset.  In time his condition improved and the headset treatment is needed less frequently now.  He's also able to communicate his feelings and control his anger better.  Building All Children suggested other helpful tools for coping like the use of a weighted blanket which has helped tremendously.  Our son is a sweet, funny boy who calls himself the "Animal Expert", and we're just so thankful that, with the help of therapists and Building All Children, we have the tools to use daily, to help him live a calmer and less angry life.
-"Assistant to the Zoo Keeper"
I was introduced to Building All Children through my job at Faith Preschool.  My daughter Tait was constantly in trouble at school. Everyone was saying she was behind or lacked certain skills but I had a feeling they were focusing on what she couldn't answer instead of all the great things she COULD answer.  After the assessment at Building All Children, I felt like I had finally validated every feeling I had about my daughter for the past 3 years. For so long every person I talked to made me feel like I was some crazy mom that thought my "bad kid" could do nothing right. That wasn't the case. I knew she had things she struggled with, but I also knew she had some pretty amazing gifts that she just needed to be given the chance to show. Building All Children led me to Dr. Robinette, who has further validated all of my feelings, questions & concerns. I feel that we are now on the right path towards helping my daughter with Anxiety, ADHD, & Sensory issues. I'm looking forward to unlocking the tiny genius that lives inside my little girl full of nervous energy.  Having a child like Tait has taught me empathy & made me a better mother, teacher, & friend.
 -Exhausted & out-numbered, single mother of three
My son attended ABC Preschool and experienced behavioral issues in class.  I noticed he was struggling and didn't seem to fit in.  Before he began school there, Kendra with Building All Children had done a routine school screening of our son and noted that he may have some auditory sensitivities.  Once the behavioral issues in school were brought to my attention, I thought back on the screening results and decided to pursue Building All Children's help.  Kendra observed our son in class and we later met and talked about recommendations.  Because of the recommendations I received through Building All Children, we were led to a Child Psychologist and an Occupational Therapist who have both helped our son learn to thrive in a new school environment.  Thanks to Building All Children, I now know who to ask for help and what to ask to empower my son's strengths and encourage his good behavior.
-Thankful Mom of E.
We were referred to Building All Children by a dear family friend. Our oldest kids have some common struggles, so she spoke very highly of BAC. My husband and I have a baby with chronic illness, so we were desperately looking for affordable support. We scheduled to meet with Kendra at Building All Children after a very exhausting week in July. My oldest daughter, then 2, was reeling, absolutely panicking, from sensory overload. The Fourth of July, fireworks for days… she was in fight or flight mode for 2-3 days after Independence Day. Not just because of the fireworks, though there were many of those… she was overwhelmed by warm water, loud vacuums, bright lights. Everyday things, that she is normally ok with, were temporarily not ok anymore. And this is what we deal with after every balloon pop, every thunderstorm, you get the picture. Life stops.  Kendra's presence alone was very welcoming and reassuring. I was reassured that I wasn't imagining things; that these behaviors aren't typical; and that my daughter really could use some support. With our now 3-year-old needing continual support in this area, and our 1 year old having chronic health issues, we legitimately didn't know how to keep all the plates spinning. Building All Children was able to give us a professional and accurate assessment of our child's needs, free to us, and point us in the direction of the resources she needs.
-The Mom whose kid is wearing headphones everywhere
A friend recommended I contact Building All Children after she heard Kendra speak at their church's "Table Talk" event.  My son was observed at school because we noticed he was struggling to obey and had difficulty listening.  My main concern was that our son's behavior was a direct response to his exposure to my husband's Bipolar Disorder.  I wanted reassurance that my son had the tools he needed to remain guarded against the emotional toll that mental illness could have on his life and behavior.  Our son was behind in fine motor skills and has challenges communicating.  Building All Children was able to calm my fears, reassure me that help was there, and even provided a Christ-centered approach which served as the greatest relief to us.  We were given many tools and tricks to use in order to help our son improve his fine motor skills.  Building All Children recommended we begin using short pencils and broken crayons for writing and recommended he try karate and speech therapy as well.  I feel like we finally have some needed tools that will help our son in practical ways.  We are so grateful to the donors of Building All Children who have hugely benefited our family and have become so special to us and our son.
-E.Z.'s Mom
I knew about Building All Children through The Church at Midtown and was at my wits end with our son.  We'd had no red flags until second grade at which time our son began struggling behaviorally in school.  Unfortunately we had great difficulty communicating with the teacher who used a unique and broad method of charting behavior.  For all we knew, our son was just being a typical boy and acting out on occasion.  When we did receive feedback on our son's negative behavior, we were told he had control issues and that we should seek our pediatrician's advice about medicating our son.  We wanted more options than medication but didn't know the source of the problem or the exact issue at hand.  I pursued an assessment with Building All Children at the end of that frustrating school year and we were met with great relief to have a game plan now in place for the following school year.  We received ideas on how to channel our son's behavior through recommendations such as karate, and we learned new skills to try at home for dealing with obedience, listening and authority.  Building All Children was able to hone in on the issue and made us feel so much better just knowing what we were dealing with and how to handle it as a team.
-Relieved Mom
Does Your Child Need Help?
I attended a Moms and Tots meeting about 3-4 years ago and heard Kendra speak on behalf of Building All Children.  As a mother of twin girls and an older daughter as well, I find myself often comparing the girls' developmental progress to each other.  There was a drastic difference between my twin girls and I wondered if I should pursue assessment of one's behavior.  One of the twins was extremely challenging, difficult, frustrating, a picky eater, and would often throw severe tantrums.  After a friend's suggestion that my daughter be tested for a spectrum disorder, I knew we needed a home assessment.  Building All Children stepped in, assessed our daughter, and we discussed her borderline results.  Kendra offered great comfort in saying that all kids are different and encouraged me not to compare the twins.  I struggled with taking attention away from one twin to deal with the other, but was given tools to help balance discipline and care of both girls.  Building All Children helped me realize that it's often normal for kids to work so hard during the day at behaving great at school, that they go home to the safety net of family and behave equally negative for Mom.  I was relieved to not only know this was "normal" but to gain the tools to handle my daughter so that we both remain calm in hard times.  Building All Children was a gift to our entire family and we're honored to help support children seeking future help.
-Mom of Twins
Our son is the light of our life, and when his teachers approached us about getting him help with gross/fine motor skills, along with courage and self esteem help, we were lost. With the help of  Building All Children we gained hope, confidence, and the light back into our son's face and future! Our income did not allow us to receive free help and the help we were actively seeking was too expensive for us to even try to obtain. Building All Children relieved the pressure and fears of not being able to obtain quality testing and quality guidance for our son! Kendra has been a counselor, a friend, a guide, and a teacher. Building All Children is a gift and their ability to reach children and nurture their strengths has propelled our son to new heights! I can not express enough gratitude for the gift of confidence I gained as a parent, and I am speechless towards the growth my son is achieving! Thank you Building All Children, from the bottom of my heart!
My name is Jamie Pendleton, I am the Missions and Family Connections Pastor at FBC Jenks. A couple of years ago my wife and I were asked to attend a fundraising dinner with some friends. It was there that we had the opportunity to meet Kendra Morgan and hear about her testimony and God-given ministry, Building All Children. My wife and I both fell in love with the vision. We walked away sponsoring Building All Children and built a relationship with Kendra and Building All Children. Since that time FBC Jenks has formed a partnership with Building All Children. They have been a tremendous resource for many families from the church. Kendra has a true passion for the families that she comes in contact with and provides great direction for the whole family. She provides monthly playdates for children and moms here at FBC Jenks, and the feedback from her ministry has been above fantastic!
– Jamie Pendleton
I would like to paint a picture of what our home life was like a year and a half ago with our son.
Our family was broken, my husband and I didn't know how to help our son. At the time he was only four.  We walked on eggshells just hoping that it wouldn't get worse and that somehow, someway, we would find a solution.
I read any book I could find and I prayed every day but we were lost at how to help him, how to love him, and give him what he needed. He's a good kid but I was at a loss. Our family was struggling. I had read enough to know what he didn't have but I couldn't pinpoint what was wrong. I felt that there was something off. I believe as a parent that's one of the worst feelings, knowing deep down that your child needs help but not knowing what to look for or how to help. You feel stuck.
Thankfully, I finally asked Building All Children to get involved. It was God who really opened the door. When I spoke with Kendra, I couldn't really articulate the things I was seeing but because of her knowledge and willingness she prayed and met with my son and she saw what my husband and I see, which is a great kid that just needs to be loved in a different way.
Building All Children was able to take all these little things that didn't make sense to me and string them together. They showed us the piece that was missing. They gave us the key to unlocking who he is and showed us how to help him and love him. It is because of that, that our little boy is happier, more grounded than ever before, and our home is balanced and joyful.
Building All Children made us feel like we weren't walking this journey alone anymore—they gave us full support: emotionally, mentally, and spiritually. I'm so thankful for Building All Children and the heart God has given them. It's my prayer that God will keep on using them and this amazing ministry.                                       
—With more appreciation than one can put into words
A Mom of a happy balanced little boy
The day you find out that you are expecting a bundle of joy, your thoughts never go to what if they need help in reading, what if they have dysgraphia, what if they have sensory issues. No, your thoughts are on the bouncing baby boy or girl that you will love and cuddle. Your thoughts are on the joyful parts of parenthood: sleepless nights, diapers, the first time they roll, walk, and say mama or daddy. In all my thoughts of preparing for my children, the thoughts that they might need "help" didn't cross my mind.
My daughter was verbal from a young age and a bubble of joy to my husband and myself. At a young age, she had a thirst for learning. We started with the ABC's early in life and I thought reading would be a snap for her. As the years progressed and reading didn't come naturally, frustration set in for her. When you see your child struggle it breaks your heart and you would give all that you have, move heaven and earth if you could, to make these struggles easier. After all, most parents want more for their children than they had so that desire to make the struggle easier is only a natural reaction.
After countless hours of working with my daughter, tutors, tears, not to mention the financial aspect, it came to the point where her teacher recommended those words we hadn't prepared for, that we seek "additional help."  If you have ever walked this path then you know how this story goes. You think the hurdle is finding the "professional" to do the testing but no. That's the first step, finding the professional, then the wait to get in, the paperwork, once an appointment has been made, waiting again. The appointment comes, the testing, the results and you think "wow I've made it."
Yet, again the hurdles are only starting because after you receive the results then you are on the quest to find another professional that deals with what your child needs and once again you're trying to get an appointment. You feel like time is of the essence and that every moment is a moment lost, yet you are powerless to do anything. The day you find a therapist, and get in, is joyful and it feels like you've almost made it. Sadly to discover that the hardest part of the race has only begun. The commitment to take your child to therapy once or twice a week, do the homework and pay for it. I never knew heaven and earth cost so much but you do what you do because it's your child.
There is no guarantee that the therapy will work or that it will work in X number of weeks/months, and there is no refund. It is a faith journey. It is praying daily that God is leading you on the correct path for your child. It is stressful, a toll, and one that, had I not had Building All Children to help encourage, guide, pray, and listen to me, I don't know that I could have found the strength to get through it. God provides people in your life at the most amazing times and Building All Children is one.  I do not know why the Lord has given my child these struggles but I focus on Isaiah 55:8-9 that His thoughts are nothing like our thoughts and His ways are far beyond anything we can imagine.  God gives us struggles to sharpen and refine us. So, no matter the cost, the time, our family praises God for these struggles because it has been through them that we have seen God's mighty hand at work. It has enabled my husband and I to show our children the power of prayer and that God is alive.

When this all started it felt like we were dodging bowling balls as the months have progressed and we have seen changes, growth, our daughter succeeding, us knowing her weaknesses and how to help her, those bowling balls now feel more like ping pong balls. It feels more manageable.  I am so thankful that God brought Building All Children into our life. I am thankful for the heart that they have to assess, resource, and empower.
-A praying Momma
Does Your Child Need Help?