Chris Jacobsen
Chairman
Chris Jacobsen is President and CEO of Oak Ridge Natural Resources. He is responsible for business development and oversight of acquisitions, financial reporting, and exploitation and development of producing and undeveloped oil and gas assets. Prior to Oak Ridge Natural Resources, Mr. Jacobsen was President and CEO of Premier Natural Resources and has held other executive management roles at Vintage Petroleum, KCS Energy and Medallion Production in Tulsa for the past 20 years. Before relocating to Tulsa, he was Senior Vice President for 12 years at Netherland, Sewell & Associates, Inc., a Texas-based oil and gas consulting firm that provides a complete range of professional reservoir engineering, geophysical and geological services to the worldwide petroleum industry.
Mr. Jacobsen began his career in the oil and gas industry in 1977 with Exxon Company USA where he held various reservoir and facilities engineering and supervision positions. Mr. Jacobsen earned a Bachelor of Science degree in Chemical Engineering from the Rose Human Institute of Technology in 1977 with a minor in economics.  He is a Registered Professional Engineer in the states of Louisiana, Oklahoma, and Texas.
In addition to his professional career, Chris has served in various capacities in the community including Mayor Pro Tem/City Councilman of Sachse, TX (Dallas County) and Member of the Dallas County Mobility Coalition for Thoroughfare Development in the Dallas Metroplex, as an adult leader and Executive Committee Member for the Tulsa Council of Boy Scouts of America, as Junior Achievement Counselor and the University of Tulsa's Petroleum Engineering Industry Advisory Board.
Kelly Caldwell
BAC Secretary
Kelly has been in preschool ministry for the last twenty-five years and recently retired from being the ABC Preschool and Kindergarten Director at Fellowship Bible Church after seventeen years of service. She has a Bachelor's of Science in Family Studies and Gerontology and is a Certified Biblical Counselor. She has been married to her wonderful husband, Darryl, for over thirty years and is the mother of three. She has served in her church in many different capacities from working in the nursery, serving as a mentor mom in a young moms group and helping organize a few youth activities each year.
David Love
Corporate Sponsor Development 
David is a faithful believer in Christ, dedicated husband & father of two young boys. David believes as a father of two young boys that every child deserves the opportunity to grow and develop according to their individual abilities and maximum potential. Understanding what Building All Children can do for children and families, he is grateful to have the opportunity to be part of such an amazing mission. David has volunteered and mentored at the Tulsa Boys Home. David has an engineering degree from the University of Oklahoma and is a Project Manager for a company here in Tulsa.
Trey Cooper, CFP, AIF
Treasurer 
Director & Senior Wealth Advisor with Mariner Wealth Advisors
As a director and senior wealth advisor, Trey focuses on developing solutions for individuals, foundations, and corporate retirement plans.
Prior to Mariner Wealth Advisors, Trey was a senior vice president of Adams Hall Wealth Advisors.  He has a bachelor's degree from the University of Oklahoma, is a Certified Financial Planner professional and an Accredited Investment Fiduciary designee.
Trey has served on the boards of Meals on Wheels of Tulsa, and the Tulsa Air and Space Museum.  He is a graduate of Leadership Tulsa Class 42, the G2 Leadership Institute and was named to Oklahoma Magazine's list of 40 under 40 in 2015.  He is also a Kansas City Barbeque Society Certified BBQ Judge. 
Trey and his wife, Jamie, have been married 15 years and have two children. 
Ryan Morgan
Ryan has a heart to serve the Lord, and a strong passion for children to have success in learning. For several years he has coached youth soccer, youth basketball and volunteers many hours at his church teaching Kindergarteners. He volunteers during his lunch time tutoring young children in math and helping them learn. Ryan is a mechanical engineer for a company in the Tulsa area. He considers it a privilege to be part of the Building All Children Board.
Janell Carter
Speech Language Pathologist, M.S. CCC-SLP
Janell is a Speech Language Pathologist, carrying her national certification. She earned her degree at the University of Tulsa and upon graduation, immediately began working for Tulsa Public Schools. Janell took time to be a mother to three before returning to work at Therapy Works, a pediatric clinic offering occupation, physical, speech and feeding therapy. She is currently a Speech Language Pathologist at Jenks Public Schools, serving 3 and 4-year old's. Her passion for helping others, especially those who cannot help themselves, has led her to Building All Children. She is prayerful that the skills, dedication and resources God has equipped her with will be a blessing to ALL children and families using these services. She believes that early intervention is a critical component to assisting children in being successful in the classroom. Janell and her husband, Ryan, have been married for 25 years and have three wonderful children. The Carters are greatly involved at Asbury UMC and are excited for the partnership to come with Building All Children.
Elizabeth G. Zeiders
Elizabeth is General Counsel and Director of Compliance at KFM Enterprises, LLC, the holding company for Industrial Oils Unlimited, LLC and Adjuvants Unlimited, LLC. In her present position she oversees a team of five who are responsible for all legal, regulatory and insurance matters for the companies and other affiliated entities. Prior to joining KFM, Ms. Zeiders held the position of Senior Corporate Counsel at Targa Resources where she was responsible for providing legal support for asset acquisitions and divestures, as well as all real estate matters for the company's pipeline assets and new projects in Texas and Oklahoma. Elizabeth was a partner at Conner & Winters in the mergers and acquisitions and commercial real estate groups prior to going in-house.
Ms. Zeiders is a member of the Tulsa County Bar Association and the Oklahoma Bar Association. Ms. Zeiders graduated cum laude from Brandeis University in 1995 with a Bachelor of Arts degree. She earned a Masters of Arts degree from the University of Oklahoma graduating summa cum laude in 1999. Ms. Zeiders earned her Juris Doctor degree with honors with from the University of Tulsa in 2006.
William L. ("Hess") Hester
Senior Pastor of Southern Hills Baptist Church in Tulsa
Originally from Memphis, TN, Hess received his BA from Southern Methodist University in Dallas, TX; M. Div. from Southwestern Baptist Theological Seminary in Ft. Worth, TX; and D. Min. from Midwestern Baptist Theological Seminary in Kansas City, MO.
Hess has served churches in Texas, Arkansas, Mississippi, and is currently the Sr.Pastor of Southern Hills Baptist Church in Tulsa where he has served for over 25 years.  His "better half" is Julie, a long-time teacher in the Music Department at Jenks High School, to whom he has been married for over 40 years.  The Hester's have three married daughters and their greatest joy these days are their four wonderful grandchildren! 
"Transformed lives are the bottom line for me as a pastor and that's why I am excited and honored to share in the ministry of Building All Children through which the lives of so many children are being transformed daily in Christ!"
Tamara Noel
Owner of Luxe Furniture & Design and Partner with Luxe Real Estate Team with McGraw Realtors
Tamara Noel is owner of Luxe Furniture & Design, a full-service interior design studio and furniture showroom based in Tulsa, and partner with the Luxe Real Estate Team with McGraw Realtors. She holds degrees in Marketing and Human Resources Management from the University of Oklahoma, and previously worked on the trading floor at ONEOK Energy Services before venturing into local business ownership. Tamara was recognized as one of the Business Journal Record's Under 40 Achievers in 2019 for her business and philanthropic efforts.
Tamara believes strongly in building and giving back to the Tulsa community and has served on board and executive positions with Project Orphans, CampFire USA Green Country Council, and the Gamma Phi Beta Tulsa Alumnae Chapter. She is passionate about children and celebrating each child's unique development and has been involved with Building All Children in different capacities since 2016, focusing mostly on fundraising.
Tamara and her husband, Chris, are parents to two sweet young boys, Palmer and Pearson. As a family, they enjoy traveling, playing sports, and playing outdoors.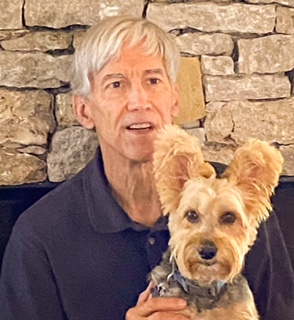 Dr. Don Hamilton
This fall, Dr. Don Hamilton will be volunteering time at Building All Children to provide education, resources and consultation as needed. Dr. Hamilton retired from medical practice in 2021 after providing pediatric care in the Tulsa area for 35 years. The last 15 years were spent in developmental and behavioral pediatrics.
He now lives in Bixby with his wife, Debbie and they have 3 adult children and 6 grandchildren. He enjoys spending more time with family especially his grandchildrens and activities at his church, Asbury.
Over the past 2 years, his dog, Chip has become certified as a therapy dog and they participate in therapy visits on a regular basis. Also, retirement has provided time and opportunities to explore new interests.