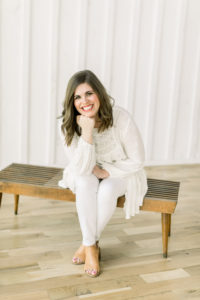 Ande Arbuckle M. S., CDS
Child Development Specialist 
Ande lives in Bixby with her husband and three young children. As a family, they enjoy movie nights, trying out new recipes, and planning their next trip together. There is nothing Ande loves more than snuggling up with a cup of coffee, a cozy blanket and diving into a fresh new book.
Ande has been part of the early childhood field for over fifteen years. She graduated with both her undergraduate and Master of Science degree in Early Childhood Education from Oklahoma State University. She was an early childhood educator for several years and taught pre-kindergarten, kindergarten and second grade. She then transitioned to working as an adjunct instructor for Oklahoma State Early Childhood Department.
Ande has a heart for young children and watching them grow and develop into exactly who the Lord created them to be. She strives to get to know each child's unique and special characteristics and learning style. She is honored and excited to walk alongside and encourage families and caregivers through Building All Children and looks forward to getting to know you!