Building All Children is excited to share with you our 2018 Christmas List for Children!
We have spent hours researching to provide you the best age-appropriate and development-building toys for your children. We desire for your family to slow down and enjoy the Holiday! We hope you can find time to open presents together, play together, and celebrate Jesus' birthday together!
We wish you…A Very Merry Christmas!
---
 Birth to 12 months Old
Until about three months old, your baby doesn't seem to do anything except check out his or her surroundings. At this age, their vision is still blurry, so they see bright, bold patterns well and it's best to avoid contrasting colors. As your baby grows, he or she will enjoy playing with things that engage all the senses. Toys are designed to draw in the kids' attention in various ways like sounding squeaky, feeling rough or squishy, and looking shiny and attractive. Infants will typically enjoy toys they can put in their mouths since teething occurs early on. Take precautions to avoid toys that are not intended to go in the mouth. Soon enough they'll be into everything so it's important to get in the habit of moving all tiny parts and even certain foods out of their reach. There are many ideas for children birth to 12 months old that will entice their senses and entertain their curiosity.
Here are some of our favorites…
Birth to 12 month old toy ideas:
Rattling Toys
Unbreakable mirrors
Floor gyms
Activity boards
Stuffed animals or dolls
Small fabric balls.
Mushroom Garden Educational Toy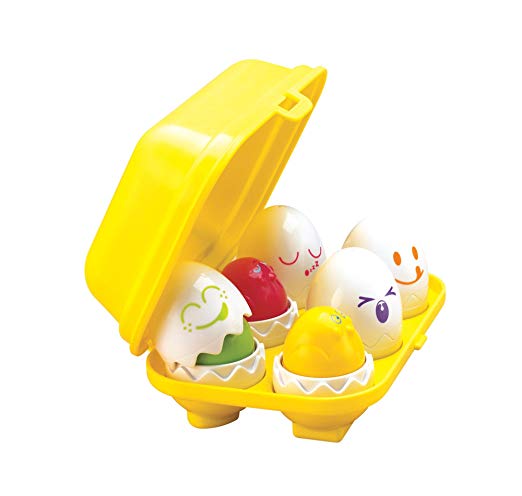 ---
One-Two years old
At this age, your baby will begin to use motor muscle skills to enjoy interactive and responsive toys. He or she might enjoy toys that involve buttons to push, music that plays in response to touch, things involving pop-ups, or toys that require using a soft, age-appropriate hammer or ball. From one to two, they're still too young to learn the ABCs, but would enjoy interacting with toys that say or sing letters and numbers. These toys expose children to language and sounds which will soon become developmental milestones.
Top Toys:
Stacking rings
Nesting cups or boxes
Push- or pull-toys that make noise or have pieces that pop up or move
Hammering sets that let kids hammer pegs or balls through holes
Simple, sturdy musical instruments like tambourines, drums, or maracas
Shape sorters
Large play vehicles, such as a school bus or a fire engine, plus plastic people that ride in them
Puzzles with four or five pieces
Rubber ducks or toy boats for bath time
Magnetic STEM Toys Building Set
Rainmaker- Visual sensory/Auditory development
ThinkFun Roll Play Game for Toddlers
---
Two-Three years old
By two to three years of age, your child has developed the fine motor skills needed to complete a puzzle or build with blocks by his or herself. They'll begin to initiate pretend play by imitating the actions of others they see. They'll enjoy toys that make real-life sounds, such as phones that ring or dolls that talk. Boys may love actively pretending with a toy dump truck, and girls might pretend to feed and care for their dolls. Children seem very active at this age. While they'll still enjoy their push- and pull-toys, they may begin enjoying ride-on toys as they develop coordination and strength. Your daughter or son may begin using colors and numbers to describe things more often. Use laundry to teach colors by sorting clothes into color piles and matching socks. Use car rides to work on counting all the red cars or yellow school buses they can find. The more you identify toys by characteristics, the more you're helping build vocabulary and observation skills.
Top Toys:
Dolls and stuffed animal
Pretend-play toys like phones, tea-party sets, toy kitchens or construction sets, and doll beds or strollers
Ride-on toys and tricycles
Musical instruments that involve responsive lights and sounds
Vehicular toys with horns, engine sounds, or sirens like cars, trucks, firetrucks, and police cars
Puzzles
Construction toys that snap together
Learning Colors, Counting, & Matching
Books- About Believing in Yourself
Nuts and Bolts-Fine Motor Skills
---
Four-Five years old
At this age, learning seems to ignite and it's a good time to introduce interactive educational, teaching toys. You daughter or son is capable of imaginary play now, and may want to pretend that they're someone else. They enjoy dressing up and pretending to take on professions and/or characters they are interested in. Your child may pretend to be "mommy" or "daddy" at times, and these are good opportunities to allow them to safely help with chores by using toy vacuums, sweeping the floor, helping wash dishes, and folding towels. Local fire stations often welcome families to come look and learn at scheduled times, and your little ones may enjoy seeing their pretend-play characters in real life. Encourage his or her imagination and allow them to try building things without helping them, or working puzzles with less help over time. Give them plenty of patience and provide as many opportunities as you can to build motor muscles during play. The more they can use their fingers to button doll clothes or work puzzles, and their legs to kick balls or peddle bikes, the more their development and coordination will thrive.
Top Toys:
Blocks or magnetic shapes
Electronic phonics toys
Construction sets with large pieces, such as Lego Duplo or Lincoln Logs
Puzzles
Action figures
Barbies
Dress-up clothes
Transportation toys, such as parking garages, airports, and train stations
Board games that don't require reading, such as Hungry Hungry Hippos, Yahtzee Jr., or Candyland
Soccer balls and basketballs
Bicycles with training wheels
Learning to Buckle, Lace, Button and Snap
Feelmo Speaking Cards-Social & Emotional Skills
Shelby's Snack Shack Counting, Multicolor
Frankie's Food Truck Fiasco Game
---
Six-Seven years old
By six and seven, you're likely seeing some independence in your child as they begin to show interest in particular things and really observe the actions of peers and adults around them. Their friends are becoming increasingly important to them, and they may begin to desire the same toy a friend got for his or her birthday. They'll likely begin to show interest in computer games, having friends over, playing team sports, and enjoying board games. He or she may love listening to music but playing instruments may still be challenging. Continue to encourage physical play, building their gross motor muscles and developing strong coordination. Provide and promote healthy interactions with peers so that your child learns patience, empathy, leadership, and kindness. These interactive skills and their social-emotional development will serve them well the rest of their lives.
Top Toys:
Remote-control cars
Basic science kits
Magnets, magnifying glasses, and telescopes
Craft kits
Barbies
Game Boys
Computer and video games
Construction sets, such as Legos or K'Nex
Sports equipment
Board games that involve strategy, including chess and checkers
My First Daily Magnetic Calendar
Dreamy Dollhouse with Furniture
---
Please remember the most important part of development is PLAY! Play with your children and enjoy the time together. Building All Children hopes you find time to play together, learn together, and explore together!